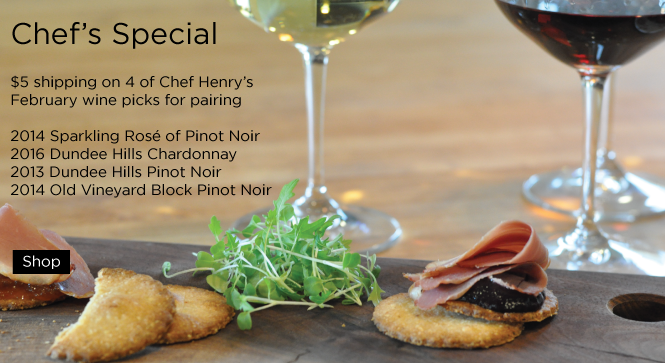 Each week our culinary team creates delectable bites to showcase our wines during our Farm & Forage Culinary Experience. This month Chef Henry is sharing four of his current favorite wine choices along with a recipe* for cornmeal crackers, a diverse base for all of your favorite toppings. All four wines: 2014 Sparkling Rosé of Pinot Noir, 2016 Dundee Hills Chardonnay, 2014 Old Vineyard Block Pinot Noir and 2013 Dundee Hills Pinot Noir, pair perfectly with this recipe.
Shipping is $5 when you mix and match four 750ml bottles of any of the above wines. Upgrade to 8 bottles for $10 shipping or a case for $15 shipping. To order visit sokolblosser.com, choose your bottles and either ground or express shipping** and the discount is automatic. Offer ends February 28.
Please contact us with any questions or if you need assistance with placing an order at info@sokolblosser.com or 503-864-2282.
To learn more about Farm & Forage click here.
*Recipe will be included with your shipment.
**We are unable to ship wine to a number of states due to shipping regulations. We apologize for the inconvenience. Full details on our shipping policy can be found here. Please contact us if you have any questions about where we can ship wine. Shipping may take longer than normal in some states, due to extreme weather conditions.