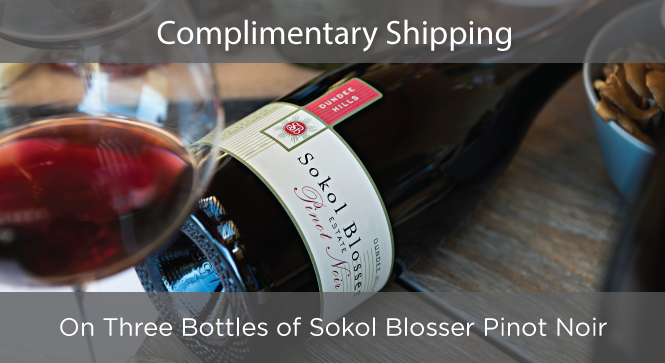 Choose any 3 bottles of Sokol Blosser pinot noir* and we'll cover the cost of ground or express shipping! Looking for the perfect gift for friends or relatives? You can use this coupon code on multiple orders to send wine to all of your favorite people.
To purchase add any 3 bottles of Sokol Blosser pinot noir* to your cart, select ground or express shipping and use the coupon code: SHIPTHREE. This offer ends March 31.
Please contact us with any questions or if you need assistance placing an order at
info@sokolblosser.com
or 503-864-2282.
*Promotion excludes Evolution Pinot Noir, Estate Rosé of Pinot Noir, Sparkling Rosé of Pinot Noir and 375ml bottles.
**We are unable to ship wine to a number of states due to shipping regulations. We apologize for the inconvenience. Full details on our shipping policy can be found here. Please contact us if you have any questions about where we can ship wine. Shipping may take longer than normal in some states, due to extreme weather conditions.